Welcome to Labelling Secrets 20
In this issue we feature new product developments such as domed labels - perfect for giving your products that "prestige" appearance and ensuring your clients call you back for repeat business.
Label Power is delighted to introduce to you two key members of staff as part of our sales team:
Trevor Barry – Labelling consultant and Geoff Curtis – Business Development, together they have over 50 years of experience within the print industry – Ensuring that Label Power has the experience and knowledge to turn your print concepts into reality.
Like food? Please come and visit us at the upcoming Fine Food Trade Show for 4 days at Darling Harbour September 24-27. Full details below plus highlights from the recent Auspack trade show.
Regards

James Malone
See us at Fine Food 2007 - Sydney

Label Power will be exhibiting at the 2007 Fine Food Show in Sydney. Fine Food is the largest industry event in Australia. This year over 750 exhibitors will showcase the latest food, drink and equipment ideas from around the world plus many free taste test samples!
Come see Label Power from the 24th-27th September 2007 at the Sydney Convention & Exhibition Centre, Stand Y20. The show opening hours are
Monday 10am – 5pm
Tuesday 12pm – 9pm
Wednesday 10am – 5pm
Thursday 10am – 5pm
Contact us for more information or a free show pass

New Label Power Staff
Geoff Curtis has joined Label Power as Business Development Manager Queensland. Geoff has enjoyed a 30 year career in the printing and associated industries and has a wide knowledge of all print applications including forms and general print. Contact our office to discuss your printing needs or call Geoff direct on 0433 118 000. Geoff's email is geoff@labelpower.com.au .
Trevor Barry has joined Label Power as Labelling consultant Queensland. Trevor brings much additional technical and specialist labelling knowledge which is available free to all valued Label Power clients. To contact Trevor please call the office or call him directly on 0433 129 235. Trevor's email is trevor@labelpower.com.au.
Label Power now producing Domed Labels for all industries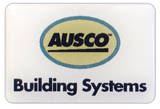 Label Power now have the capability to produce domed labels and domed badges. Domed labels and badges are covered in a crystal-clear resin coating to add a touch of class to your product. This crystal clear resin protects the printing and gives it a 3D look. It also adds to the labels or badge durability and weather resistance. The polyurethane is UV resistant so labels won't fade in the sun.
Domed Labels are often referred to as Domed Stickers, Acrylic Raised Stickers, Domed Decals, Lensed Labels, 3D Badges or Epoxy Domes.
Some popular uses for domed labels are:
• Badges, Name Plates and ID Labels
• Cars, Boats, Vehicles
• Computers, Electronics
• Appliances
• Tools and hardware
• Advertising, Promotions
• and many more
For more info, contact us today on 1300 727 202 or sales@labelpower.com.au You can also request a quote online.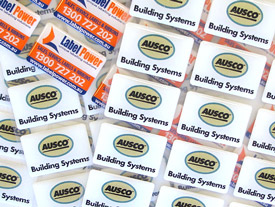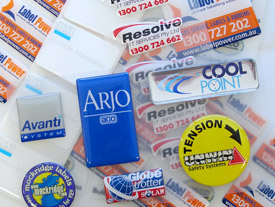 BarTender is now Vista Compatible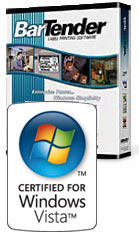 Label Power are Australia's distributor for Bartender Labelling Software.
Nearly half a year has gone by since Seagull announced that BarTender v7.75 (service release 2, released in January) had been modified, tested, and approved for operation on Windows Vista. However, as explained in the associated Vista Seagull News Flash, that version had been self-certified by Seagull.
And now...
BarTender version 8.01 (service release 2) has been certified by Microsoft as Vista compatible!
Free Updates for all users of BarTender 8.0 and Higher Users of version 7.7x (versions 7.70 through 7.75) can still get Vista compatibility by updating their software to v7.75 SR2 for free from our Service Release web page . However, only users of BarTender 8.0 or higher can update for free to the version of BarTender with Microsoft-certified Vista compatibility.
To upgrade your old BarTender software, contact Label Power - phone 1300 727 202 or email sales@labelpower.com.au.
BarTender 8 Now Available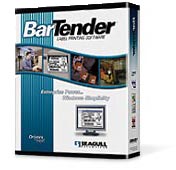 Bartender, the latest version of Seagull Scientific's labelling, barcode and RFID software, is now available from Label Power. Bartender v8.0 is compatible with Windows Vista and has many new features. The centre piece of Bartender v8.0 is the brand new Enterprise Print Server edition -- the most powerful Bartender yet. It includes all capabilities of the Enterprise and RFID Enterprise editions, plus many new features for centralized printing and next generation integration features. It also includes Bartender Web Print Server, which lets users' view, select, and print labels from any web browser. Bartender v8.0 also contains numerous user-interface enhancements that have been added to all editions.
As well, Bartender Web Print Server, a revolutionary new web application, has debuted with the release of Bartender v8.0. Part of the Enterprise Print Server edition, Web Print Server lets you view, select, and print Bartender label formats from any operating system or platform that can run a web browser.
The new version also contains a new Seagull Driver Wizard which makes printer driver installation, removal, and updating easier and more reliable than ever. One of the most noteworthy recent feature additions is the expansion of Seagull's printer "Status Monitor" support to numerous additional printers. This allows conditions such as "Out of ribbon" and "Off-line" for supported thermal label printers to be viewed right in the standard "Printers and Faxes" folder and "Print Queue" Window (and no propriety "print manager" software is required). Another recent improvement is that Seagull's Status Monitor now supports the reporting of multiple, simultaneous printer conditions.
Contact Label Power now 1300 727 202 or email sales@labelpower.com.au for more information.
AUSPACK 2007, Melbourne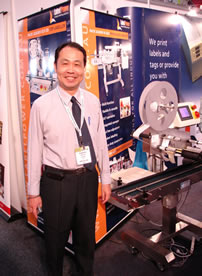 Label Power had a busy 4 days recently at the Auspack introducing the Packleader auto applicators to the Australian market. Many enquiries were received for stocked applicators as well as complex designs with up to 4 labelling heads.
AUSPACK is Australia's only international exhibition of packaging and processing machinery, materials and associated technology and was at the Melbourne Exhibition Centre from the 1st to 4th May.
AUSPACK is the most comprehensive packaging and processing trade exhibition ever seen in Australia.
For information and pricing on the right applicator to automate your labelling contact james@labelpower.com.au.