Primera LX800/LX810 Waterproof Synthetic Labels
Label Power is now stocking Water Resistant Synthetic Labels for the Primera LX800 and the Primera LX810.
If you are wondering why would you need synthetic labels, the reason is very simple: even though paper labels offer an inexpensive way to print in a variety of general-purpose applications, synthetic labels offers more durable, long-lasting results with resistance to scratch, moisture, and tear.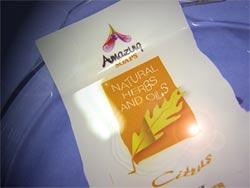 As an experiment, we decided to immerse in water a synthetic label printed using the Primera LX810. The results can be seen on the picture: the label didn't fade and the material remained intact.
Common applications of synthetic labels include fresh food labels, bottles of water, sports bottles, bottles of wine or products exposed to condensation.
You can start printing your own full colour synthetic labels now by getting a Primera LX810 and ordeing one or several of the many ex stock size gloss and paper labels available.