Label Power is proud to introduce the NEW LX500 Colour Label Printer by Primera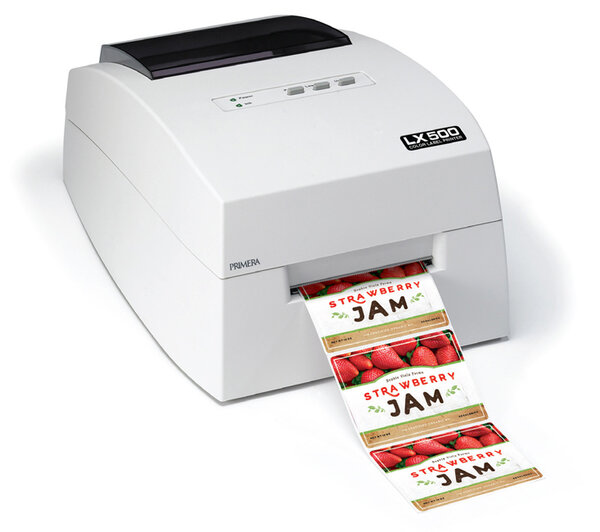 New LX500 Color Label Printer. Faster and better quality printing. Optional built-in label cutter in a small compact size.
Get up and running quickly!
The LX500 & LX500c utilise the latest in high-resolution inkjet technology to print brilliant full-colour product labels on demand!
From initial set-up to full operation, the both LX500's are easy to use. Plus, everything you need to start printing labels is included in the box! Each LX500 ships with <link products labelling-tools labelling-software bartender _self>BarTender UltraLite Edition software, sample roll of high-gloss labels, ink cartridge and USB cable. You'll be printing full-colour labels within minutes of taking the printer out of the box. Your labels can include full-colour photos, illustrations, graphics, text and bar codes. Print them when and where you need them - in quantities you can really use!
The Primera LX500 & LX500c colour label printers produce gorgeous, professional-quality labels for all your short-run, specialty products. It's ideal for industries such as gourmet foods, wine and water bottles, personal care and natural products.
It can print labels up to 4800dpi and 101.6mm wide, has an optional built-in label cutter (LX500c), is small and compact in size. Weighing only 3.5kgs, the LX500 has the ability to print up to 102mm wide and 4800 dpi full colour printing.
Built-in Label Cutter with the LX500c Model
The LX500c, an additional model, includes a built-in guillotine label cutter inside the printer so you can quickly and easily dispense individual labels or cut at the end of or between label jobs. This built-in guillotine is a significantly more robust internal cutting mechanism than previous or similar Primera models.
Contact Label Power today for further information or assistance to find the right labelling solution for your needs.
About Label Power
Label Power was established in 1996 with head office and manufacturing facility located in Brisbane, Queensland. We are the industry leaders in VIP (Variable Information Printing) systems which enable clients to print variable information labels and tags on demand.
Label Power supply full colour industrial digital label printing and converting systems including the popular reel to reel Primera CX1200 digital press and FX1200 digital diecutter.
Other products supplied are Colour Inkjet Label Printers, Label Dispensers, Label Rewinders and Label Applicators. For label design and print Label Power are distributors of a full range of labelling software including Bartender, Labelview and Nice Label.
An extensive trade label manufacturing plant coupled with over 17 years experience in the implementation of the best labelling systems, Barcode scanners and Software make Label Power the right partner to help you implement all your product identification and tracking needs.
For more information about Label Power please visit www.labelpower.com.au or call us on (07) 3710 7000.
---