Label Power is proud to introduce a new range of reliable, compact label printers
Australia, July 15th, 2015.
After breaking new ground recently and becoming a Certified Performance Partner with Honeywell, we are proud to introduce an exciting range of extremely reliable, easy to use printers. These printers are perfect for a variety of industries for small, medium or large businesses looking for a smart solution to improve productivity in label making operations.
Our Certified Performance Partnership with Honeywell, stamps Label Power as Australia's newest reseller to one of the world's largest innovators of label printing & barcode scanning solutions.
Honeywell pride themselves on equipping customers with innovative tools to be more productive while having an unrelenting commitment to quality and delivering results in everything they do. That's why we worked hard for this union, so Label Power can offer the best printer and scanner solutions to suit your needs.
Honeywell acquired Intermec printers and scanners in 2013 and more recently completed it's acquistion of Datamax O'Neil early in 2015. This means Label Power is the place to go for all Intermec and Datamax O'Neil printers and consumables.
Label Power are perhaps best known for producing quality full colour labels with Digital and UV Flexo printing processes, however Label Power have always offered in-house printing systems ranging from thermal label printers to full colour inkjet and laser systems. Label Power have over 18 years of experience in providing complete barcoding solutions, labelling software and printer consumables Australia wide.
A proud moment (pictured) shows Label Power's Managing Director James Malone, with the Honeywell Performance Partner Certification plaque in front of Label Power's newest digital label printing press, the HP Indigo WS6800. Both Honeywell and HP (Hewlett Packard) are Fortune 100 companies and we are pleased to share the benefits of these relationships with all our valued clients.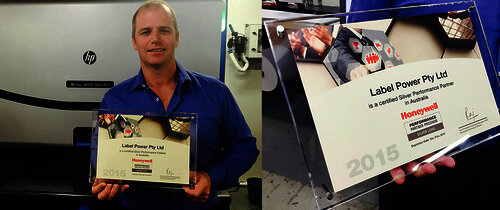 ---
Perfect for Retail, Healthcare, Transport & Logistics environments
Introducing the Honeywell PC42t Compact Label printer
The Honeywell PC42t is exceptionally compact and easy to use. This printer is simple to install and is ready to print quickly. Quiet, reliable operation and intuitive design make the PC42t the right fit for light-duty labelling applications in a variety of industries. With its affordable price and modern features, the PC42t represents a smart solution for the small or medium business looking to improve productivity in label making operations.
Perfect for Healthcare environments
Introducing the Intermec PC23D Direct Thermal label printer
Designed to set a new standard in user friendliness and flexibility, the compact Intermec PC23 provides an intuitive label printing solution. Available in 2 inch wide direct thermal (PC23d) with 10-language LCD user interface, this low cost and fast operation makes the PC series the smart choice for light duty labeling applications where users need reliable, easy to use printers.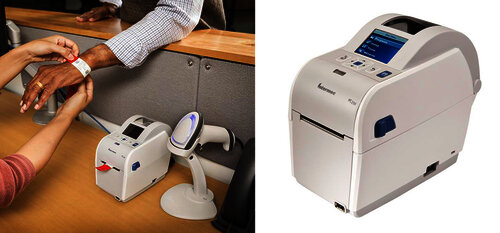 Perfect for Light Industrial environments
Introducing the Intermec PD43A Thermal label printer
The PD43 is a light industrial thermal printer incorporating the latest printing innovations into a compact and affordable package. Ideal for tight spaces, shallow countertops, and pull-out cabinets, the PD43A was designed to deliver no-compromise printing performance in the smallest possible footprint.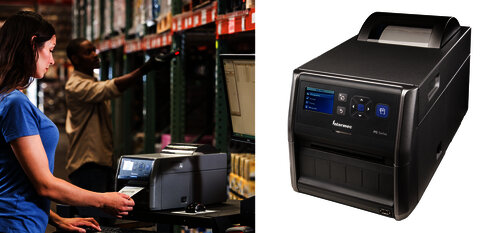 Perfect for Industrial environments
Introducing the Intermec PM43A Industrial Label Printer
Perfect rugged fit designed for mainstream applications, this mid-range industrial label printer is ready to perform and suits operations requiring 2,000-7,000 labels per day. The PM43 is a third-generation Intermec industrial printer designed to maximise uptime and deliver quick deployment–the fastest print speed in its class–and proven reliability.