Australia, April 03, 2013.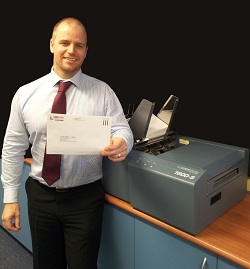 Label Power, Australia's leading label manufacturer and supplier of printing solutions expands it's range of colour label printers with the new Colordyne CDT-1600S label and tag printer
"The CDT-1600S is a revolutionary desktop style, colour sheet-fed printer which will completely change the way our customers look at colour printing" says James Malone, Managing Director of Label Power. "With outstanding print speeds it will make light work of even the most demanding of printing tasks"
Designed specifically for in-house printing the Colordyne CDT-1600S is powered by Memjet technology and will be a real asset in a variety of markets, including print shops, retail, banking, government, and most small to medium businesses. The CDT-1600S makes easy work of:
Retail tags, POP, shelf talkers and signage
Warehouse and distributional marketing materials
Business brochure materials
Invoice personalisation, envelopes, coupons and inserts
The CDT-1600S Colour Sheet-Fed Printer can deliver pinpoint precision full-variable colour at speeds of 305mm per second (1600 x 800 dpi) and 150mm per second (1600 x1600 dpi). The CDT-1600S prints on a wide range of media including paper, envelopes cardboard and labels (Media width from 76.2 to 241.3mm - Media length from 106.7 to 431.8 - Maximum media thickness 0.5mm).
Malone explains that the CDT-1600S will "undoubtedly change the way that companies do business. Our customers can now print a wide variety of documents, labels, envelopes, and other materials at a very affordable cost, whilst meeting industrial printing demands".
He goes onto say, "in fact, it's a real game changer. It brings down printing costs dramatically for businesses, which means that companies can look to explore new markets, or to sell more of their existing products. Either way, it's a revolution in desktop inkjet printing design".
The Colordyne CDT-1600S is now available from Label Power. For more information about how this product can help your business, then contact us on (07) 3710 7000.
About Label Power
Label Power was established in 1996 with head office and manufacturing facility located in Brisbane, Queensland. We are the industry leaders in VIP (Variable Information Printing) systems which enable clients to print variable information labels and tags on demand.
Label Power supply full colour industrial digital label printing and converting systems including the popular reel to reel Primera CX1200 digital press and FX1200 digital diecutter.
Other products supplied are Colour Inkjet Label Printers, Label Dispensers, Label Rewinders and Label Applicators. For label design and print Label Power are distributors of a full range of labelling software including Bartender, Labelview and Nice Label.
An extensive trade label manufacturing plant coupled with over 17 years experience in the implementation of the best labelling systems, Barcode scanners and Software make Label Power the right partner to help you implement all your product identification and tracking needs.
For more information about Label Power please visit www.labelpower.com.au or call us on (07) 3710 7000.