Brisbane, QLD, Australia (April 30, 2012).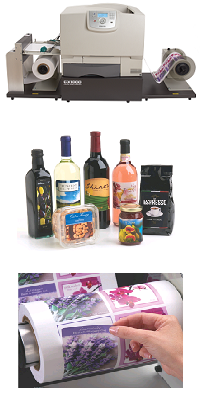 Label Power, label manufacturer and label printer supplier, continues to bring innovative products to Australian businesses. This month, Label Power is proud to introduce Primera CX1000, the latest colour laser label printer from Primera Technology.
Label Power is now bringing the new Primera CX1000 Colour Label Printer to the Australian market. The CX1000 label printer makes it easy to produce high quality labels in house that are highly fade resistant and durable. Designed for in-house production, CX1000 is ideal for producing short- to medium-run jobs from 50 to 5,000 labels per roll in various sizes.
James Malone, managing director of Label Power says with the CX1000, users no longer need to order massive quantities of pre-printed labels. He says, "There's no lead time and no set-up charges, either. Just import your label files into the included PT Print Software, specify how many you need, and press go, it's that simple."
Malone continues, "Printing your own labels saves time and money in other ways, too. Design changes can be accomplished immediately so you'll have no wasted inventory – print only the labels you need when you need them, the ultra fine Toner is fused onto the label stocks with heat -so scratch, smudge and water resistance is guaranteed.
According to Label Power the CX1000 can produce labels with a 2400 dpi resolution at a print speed of up to 5 meters per minute, while a built-in cutter automatically cuts the web once the job is completed and a sensor turns off the printer and rewinder.
The Primera CX1000 is suited to a wide variety of applications including:
Specialty, organic and gourmet foods and beverages
Wineries, breweries and distilleries
Coffee roasters and specialty teas
Cosmetics and personal care products
Private labelling
Label Power adds that the CX1000 also prints onto many different laser-qualified label materials such as textured wine label stocks, pressure-sensitive plain papers and Silver, white and clear polyester stocks.
A wide range of approved matte, semi-gloss, high-gloss and specialty food and beverage label materials are available.
Primera CX1000 is now available at Label Power. Customers interested in obtaining further information about this printer can visit www.labelpower.com.au or contact our consultants at 07 3710 7000.
---
About Label Power

Label Power was established in 1996 with head office and manufacturing facility located in Brisbane, Queensland. We are the industry leaders in VIP (Variable Information Printing) systems which enable clients to print variable information labels and tags on demand.

Label Power supply full colour industrial digital label printing and converting systems including the popular reel to reel Primera CX1200 digital press and FX1200 digital diecutter.

Other products supplied are Colour Inkjet Label Printers, Label Dispensers, Label Rewinders and Label Applicators. For label design and print Label Power are distributors of a full range of labelling software including Bartender, Labelview and Nice Label.

An extensive trade label manufacturing plant coupled over 15 years experience in the implementation of the best labelling systems, Barcode scanners and Software make Label Power the right partner to help you implement all your product identification and tracking needs.

For more information about Label Power please visit www.labelpower.com.au or call us on 07 3710 7000.