Brisbane, QLD, Australia (September 12, 2011).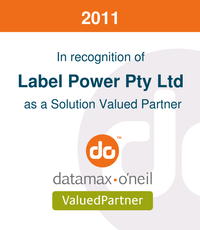 Label Power Pty Ltd, Australia's leading manufacturer of top quality labels, tags and supplier of associated equipment, announces they are Australia's newest Solution Valued Partner of Datamax-O'Neil.
Label Power prides itself on being the printer supplier and label manufacturer of trust for many Australian businesses. James Malone, Managing Director of Label Power states "We are more than happy to become Datamax-O'Neil Solution Valued Partner and strengthen our position in the market by offering all our customers the latest technology in portable and industrial barcode printers from Datamax-O'Neil".
Malone explains "By teaming up with Datamax-O'Neil Label Power offers a high value proposition to all Australian businesses by combining Datamax-O'Neil's leading range of stationary and portable label printing solution products with Label Power's expert team of consultants, its industry knowledge and more than 15 years of experience".
At Label Power we are proud to continue providing unique labelling solutions to Australian Businesses. Our team of consultants are ready to assist businesses on how to achieve higher level of efficiency and improve their performance by investing in any of the following Datamax-O'Neil Barcode Printers.
Businesses interested in obtaining more information about these products can visit www.labelpower.com.au or call us on 1300 727 202.
Label Power is accepting reseller enquires for this range of products, from manufacturers or businesses involved in selling labels.
---
About Label Power
Label Power was established in 1996 with head office and manufacturing facility located in Brisbane, Queensland. We are the industry leaders in VIP (Variable Information Printing) systems which enable clients to print variable information labels and tags on demand.
Label Power supply full colour industrial digital label printing and converting systems including the popular reel to reel Primera CX1200 digital press and FX1200 digital diecutter.
Other products supplied are Colour Inkjet Label Printers, Label Dispensers, Label Rewinders and Label Applicators. For label design and print Label Power are distributors of a full range of labelling software including Bartender, Labelview and Nice Label.
An extensive trade label manufacturing plant coupled over 15 years experience in the implementation of the best labeling systems, Barcode scanners and Software make Label Power the right partner to help you implement all your product identification and tracking needs. Reseller enquiries welcomed.
For more information about Label Power please visit www.labelpower.com.au or call us on 1300 727 202.
---
If you want to download this press release please Click Here.