Suma DC4 and DC4sx Vinyl Sign Printers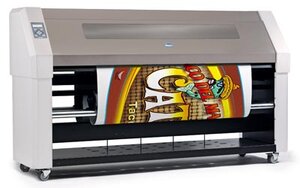 Suma DC4 and DC4sx Vinyl Sign Printers are now available in Australia from Label Power.
The new DC4 is a large format thermal transfer printer, combining a full 127,5 cm print width with integrated contour cutting. Its resin ribbons can be applied on a wider range of print media and its new maximum resolution is up to 600 dpi.
Thermal transfer technology is a dry transfer printing process that uses heat and pressure to create a durable bond with the media or substrate. This process gives the finished product durability against UV light, in addition to making it waterproof resulting as such in graphics with an impressive longevity without lamination. In combination with an integrated dragknife cutter based on Summa's renown contour cutting knowledge, the Summa DC4 delivers stickers and labels in a time-saving and cost-effective manner.
The new DC4 's auto-changing resin ribbon charger can load up to 8 ribbons. With the extensive range of more than 20 spot colours plus white and glossy metallic gold and silver, high effect full-colour graphics and raster free logo's can be printed with less ribbon cost.
The DC4 incorporates a thermal transfer printhead that can provide a resolution of 304 or 608 dpi on one axis by using the improved print modes. A dual density printing mode allows for more vivid images on less suitable materials. The high number of standard features in the Colour Control RIP&Cut software can be readily configured, and a 2 Giga hard disk drive allows a storage of multiple jobs.
With the instant dry process the printhead does not need to be primed, purged or cleaned. It cannot clog which makes this device entirely maintenance free. From ecological point of view, the DC4 is the solution to combat the excessive waste of inks and cleaning chemicals. When printing there are no noxious fumes, so no need for exhaust systems.
With the DC4sx, print-and-cut on 67cm, the investment is minimal and the reduced printing costs will make the difference.
"With the introduction of the smaller and more affordable Summa DC4sx, we expect to see a substantial sales growth in the sign and label market as well as new opportunities for screenprinters", states Erwin Vandousselaere, managing director of Summa. "Combining high image durability and precision contour cutting into one 67cm device, the DC4sx becomes the ultimate label and decal production unit".
Thermal transfer technology is a dry transfer printing process that uses heat and pressure to create a durable bond with the resin-based inks and the media. The resin inks are supplied on ribbons containing densely packed pigments suspended in a solid plastic carrier. This high pigment density results in images that are highly abrasion resistant compared to liquid-based inks, and it provides a long term UV and water resistance with an outdoor durability up to 5 years without laminations.
Despite the "eco" in the names of several solvent inks, they still remain toxic and harmful for the operator and persons in the same working environment. Thermal transfer printing produces no fumes at all, creates no mess and does not require maintenance nor the use of cleaning chemicals. Thermal transfer is clearly an ecoLOGIC choice.
Contact Label Power now 1300 727 202 or email sales@labelpower.com.au for more information or printed samples.