Label Power Introduces BarTender 9.3 to design label templates
Bartender 9.3, the latest version of Seagull Scientific's labelling, barcode and RFID software, is now available from Label Power. BarTender 9.3 has numerous new features including weighing scale support, better data entry forms, expanded IBM WebSphere functions and more!
Creating label templates is easy with Bartender
This version also introduces new names for some of the editions and a number of price changes.
Please visit the bartender page for more information.
RFID Price Point Lowered
RFID support is now included in the newly-named "Automation" edition (previously called "Enterprise"). This effectively cuts Label Power's entry-level price for RFID support almost in half.
One Edition Name Phased Out; Two Product Names Changed
There is no longer an edition called "RFID Enterprise." Instead, the editions previously called "Enterprise" and "RFID Enterprise" have now been combined into the new "Automation" edition at prices comparable to what the "Enterprise" edition used to sell for. Also, the previously named "Enterprise Print Server" edition is now called "Enterprise Automation." (It continues to support RFID.)
Understanding the Name Changes
Previously, there were three editions that began with the word "Enterprise." This has been replaced with two editions: "Automation" and "Enterprise Automation."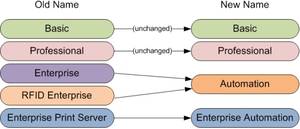 The reasons for the name changes are:
Having three editions containing the word "Enterprise demanded too much presales explanation.
Introduction of the new name "Automation" significantly clarifies which editions can be controlled from within other software.
The word "Enterprise" is now reserved for only the most powerful edition.
The "Automation" edition has NOT had any of it's powerful features removed. However, the Enterprise Automation edition continues to provide the broadest enterprise management functions, most powerful integration capabilities, most complete security system, and features for centralised and web-based printing. For more details on the differences between the editions, please see the Seagull Scientific on-line Features and Editions Comparison Chart.
"Multiuser" Professional Parts Discontinued
Special part designations for "Multiuser" (3-user through 25-user) BarTender Professional "editions" have been discontinued.
Tons of New Features!
BarTender version 9.3 introduces:
By far the most powerful support for weighing scales available in any label software package.
Much more powerful and easier-to-design print-time data entry forms.
Bidirectional print communications for IBM WebSphere.
Bar code improvements.
"On-the-fly" object automation in the middle of a print job.
Numerous user-interface enhancements.