New Country of Origin Food Labelling Laws in Australia
Published on May 25, 2016
New Country of Origin Food Labelling Laws in Australia.
Do you know if you will be compliant with these new labelling laws?
The new Australian Country of Origin Food Labelling laws take effect on 1st July 2016 so it's important that you get your packaging and labelling up to date.
The Country of Origin Labelling (CoOL) regulations for food offered for sale in Australia come into effect 1st July 2016, with a 2 year transition period. These changes affect you if you sell food in retail stores in Australia. There are different labels depending on where the food was grown, produced, made or packaged. Some foods are defined as non-priority foods and new labels are not mandatory, but may be used voluntarily. All other foods must comply with the new labelling requirements.
Label Power are here to help you manage this transition.
Luckily the Australian Government has released some neat youtube videos to explain.
Food Labelling Explanatory Video:
www.youtube.com/watch?v=M6YE4RfSiBk

Food Labelling Style Guide:
www.business.gov.au/foodlabels

Food Labelling Legislation:
www.legislation.gov.au/Details/F2016L00528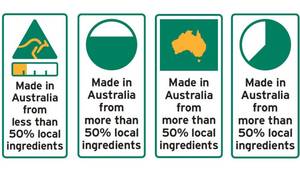 Of course for more information or to order Country of Origin labels just contact the friendly staff at Label Power.