Meat and Poultry Package Labels Printing
Label Power manufactures sticker labels and tags specifically for the meat industry. Products include: AQIS approved labels, food grade inserts, carcass tags, sequentially numbered inserts, chicken tags, carton labels and security cut labels.
Label Power supplies plain or pre-printed self-adhesive labels in a variety of shapes, sizes or colours.
We manufacture labels in paper and synthetic material and tags in synthetic stock.
Paper: thermal transfer, direct thermal and fluro colour - All with high adhesive and freezer grade adhesive.
Synthetic: thermal transfer and direct thermal.
Our sticker labels and tags features:
Excellent strength and durability - moisture resistance.
Excellent print quality for superior barcode scanning.
Ease of use and functionality.
Wide range of sizes available.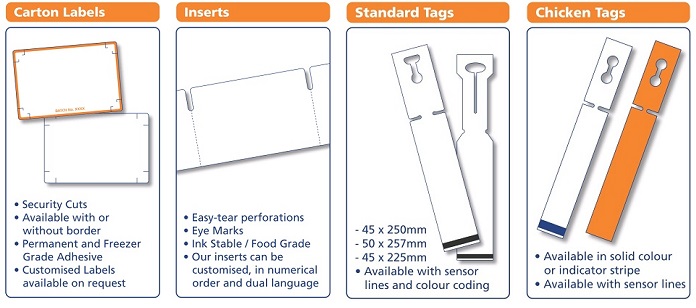 Leave the hassle of printing your labels to the experts!
Choose Label Power to print high-quality labels, stickers and tags
Label Power provide label printing services for businesses all around Australia. You can find our head office in Brisbane, from where we coordinate our national and international activities.