Primera LX200 label printer
Primera LX200 label printer
Primera LX200 is a label printer which utilises high-resolution monochrome inkjet printing to produce a wide range of barcode and identification labels, up to 108mm wide.
This compact printer doesn't use a ribbon instead it "jets" ink directly onto plain paper or specially-treated, high-performance inkjet substrates. This process leaves no spent ribbon behind that shows a mirror image of what has been printed (important for HIPAA and a host of other government and industry confidentiality requirements).
The LX200 is ideal for small text, intricate graphics and even high-resolution, grey-scale photographs. This unit delivers high quality labels with print resolution up to 1200dpi.
The LX200 label printer is small and compact which makes it ideal for businesses with limited space.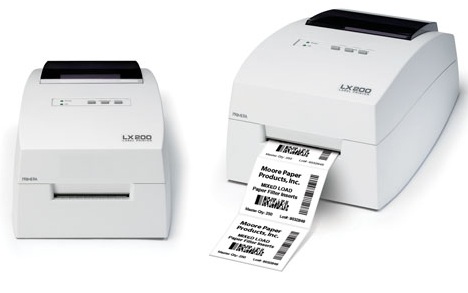 Primera LX200 label printer benefits
Ink replacement is fast and easy – just snap the cartridge in and out.
1200 dpi print resolution.
Ideal for small text, intricate graphics and even high-resolution, grey-scale photographs.
Dye or pigment-based ink cartridges for printing on the widest range of materials.
Nicelabel SE, Primera Edition Software included. Perfect for label layouts with fonts, graphics and all popular linear and 2D bar codes.
Print method
---
Print resolutions
4800 x 1200 dpi
1200 x 1200 dpi
600 x 600 dpi
---
Ink cartridges
---
Print width
---
Print length
---
Media width
---
Media types
Roll-fed pressure-sensitive labels, roll-fed tags, fan-fold labels or tags
---
Media sensing
Moveable see-through sensor for die-cut labels; Reflective for labels and tags with black stripe; Continuous label stock; Preprinted label stock
---
Supply roll
127mm maximum diameter on 50.8mm core. Core has additional restrictions (information about restrictions available on request).
---
Indicator lights
---
Controls
---
Ink level warning
Calculates actual number of prints remaining based upon ink usage of graphics being printed (patent-pending)
---
Operating systems
---
Recommended minimum system
For PC: Pentium® IV computer or better, 512MB RAM, 5GB free hard drive space, USB 2.0 or USB 1.1
---
Label design software
Nicelabel™ SE Primera Edition included. (Can also be used with most other popular label design software programs.)
---
Electrical rating
---
Power requirements
100-240VAC, 50/60 Hz, 60 watts.
---
Certifications
UL, UL-C, CE, FCC Class A.
---
Weight
---
Dimensions
264mm(W) x 389mm(D) x 180mm(H - closed), 442mm (H - open)
---