Labelling Secrets Issue #22
In this bumper edition of Labelling Secrets we review The 2008 Melbourne Fine Food Expo and the Opening of Label Power's Victorian Office. We introduce the new Primera LX200 Barcode printer and show how to save by upgrading your Bartender to the new Bartender Version 9 before 31st December. We talk about Unitech Data collection equipment and a Sweet satisfaction Customer Case Study. Finally we discuss the Queensland Q400 and a revolutionary Powered Label Applicator starting from under $2800+GST that will take the market by storm!
With the recent devaluation of the AUD raw materials and imported equipment costs have risen dramatically over the last few months, whilst we strive to minimise all increases through increased efficiencies there will be price changes effective immediately which will affect all client pricing.
Please don't forget to place your orders early as manufacturing will be closed over the Christmas break with only a skeleton staff.
We will be closing on Friday 19th of December at 3.00pm.
Re-opening on Monday 5th of January 2009 at 8.00am.
Enjoy your Christmas & New Year.
---
Melbourne Fine Food Australia
Label Power's team were kept busy at Fine Food Australia show at the Melbourne Exhibition and Convention Centre 22-25 September 2008. Label Power showcased the Degrava DP 8500, Primera LX400 & LX810, Evolis card printers and Avery Dennison printers. Label Power was happy to explain new labelling and printing technology to clientele from all over the nation. These partners
sought particular labeling solutions which Label Power was happy to provide.
Fine Food was staged concurrently with Hotel Australia and Wine & Spirits and showcased 1,000 exhibitors filling the entire Melbourne Exhibition Centre - 30,000m2 with buyers and sellers interested in the business of food.
Exhibitors came from all over Australia and represented every major industry sector. There were special feature areas within the show for bakery, confectionery, dairy, drinks, equipment, meat, natural products and seafood and state group pavilions from Victoria, New South Wales, South Australia, Tasmania and Queensland.
Retail and foodservice buyers responded by attending in large numbers and making purchasing decisions. The final visitor total was 23,840 including 3,430 interstate and 1,414 internationals from 52 countries. If you are from Melbourne and missed out seeing us at the show please contact Michel Simonet 0417 631 441.

---
Victorian Office
Due to overwhelming demand from our existing clients Label Power have now opened a Victorian office. The Melbourne office is headed up by our new Victorian State Manager, Michel Simonet, who will take all inquiries from Victoria and surrounding areas. Michel Simonet has over 15 years experience in most popular Labelling Software packages such as Bartender, Label View and Easylabel.
Michel also has intimate knowledge of Thermal Transfer and Coding ribbon and Datamax, TEC and Zebra printers to name a few. Michel's machinery experience backed by Label Power's printing capabilities mean Label Power is a complete solutions provider for all Victorian businesses. Our Printing capability for labels up to 8 colours plus cold and hot foiling backed by inhouse art department and local support equate to the best solution for you.
Whether you need labels and tags or if you are looking at upgrading your labelling software or label printers please contact Michel for a no obligation face to face consultation
Melbourne Office
Address: 703/81 Queens Road,
Melbourne, VIC 3004, Australia.
Contact Person: Michel Simonet
Mobile: 0417 631 441
Office: 03 9078 2676
FAX: 1300 727 212
---
Primera LX200 Barcode Label and Tag printer.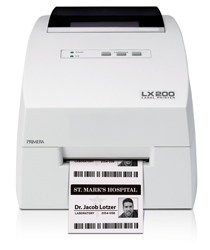 The new LX200 utilises the latest in monochrome high-speed inkjet printing technology. With 1200 dpi print resolution this innovative printer has almost six times as many dots per inch as most thermal transfer bar code printers. The LX200 is capable of printing onto labels, tickets, tags and coupons for a wide range of applications, including those in which higher levels of security, confidentiality and durability are required.
Unlike thermal transfer printers the LX200 uses an inkjet print head instead of ribbons. Thermal transfer ribbons leave behind a record of everything that has been printed. In many applications such as healthcare or government secure collection and disposal of ribbons is required in order to meet confidentiality and secrecy requirements. Inkjet printing doesn't have this challenge and thus can be a far more secure, convenient and cost-effective solution.
View the Primera LX200 Specification page.

Download Primera LX200 product brochure here.

Download Primera LX200 label stock order form.
Price: Call us now for pricing 1300 727 202

Please Contact Us or Request a Quote.
---
Bartender v9.0
Main | Overview | Downloads | Brochures | Features
Version 9.0 of Australia's most popular labelling software Bartender has been released to Australia by Label Power.
New Features include BarTenderReprint, Media Usage Tracking, and Enterprise Print Management The biggest new release in over ten years of our BarTender label and RFID software began shipping on September 10, 2008. The free, downloadable Trial Edition is available now, as well as brand new brochures and an extremely detailed "What's New" white paper.
New features and modules now available in the
BarTender Label Management Suite include:
Printer Maestro application provides super-friendly centralized management of every printer and print queue on any size network.
Printer Media Usage Tracking and Inventory Control of printer parts.
New BarTender System Database lets you log more detailed print job information and be better prepared for high-security audits.
History Explorer provides easy, highly flexible navigation and viewing of past print jobs.
Reprint Console lets you easily replace lost or damaged labels, even if the original label data is no longer readily available.
New Integration features.
More New Features, including support for larger networks.
Click here or the menu for further information.
Upgrade your existing BarTender software now to take advantage of the special pricing only available till Dec 31 2008.
Price: Call us now for pricing 1300 727 202
Please Contact Us or Request a Quote.
---
Label Power Capture Unitech Agency

Label Power is now a certified Australian reseller for Unitech Data capture and POS Equipment.
Label Power are pleased to offer the latest in barcode scanning equipment
The HT660 is a ruggedly designed, feature-rich, mobile computer ideally suited for manufacturing, retail, transportation and logistics sectors. Reliable enough to capture data in harsh environments, the HT660 is IP54 rated and can withstand 1.5M drops to a concrete floor.
Weighing in at just 360 grams, the HT660 is equipped with a high-contrast color touch screen, 36 alphanumeric keys, and ergonomic rubber grips for comfort. For scan intensive applications, the 12-hour battery ensures no scanning downtime. Data is also secured with a 72-hour backup battery.
The HT660 comes standard with Microsoft Windows CE 5.0 Professional Operating System, integrated 1D laser scanner, Bluetooth enabled, and an SD card slot. Optional WiFi models (802.11b/g), charging/communication cradle, and gun grip are also available.
Easily integrated with other software and hardware, including mobile printers, the HT660 gives you more flexibility and control over your mobile data collection applications.
For more information on this and other Data capture equipment please contact Peter Hunter our Software and Data Capture specialist or visit the product page.
---
Sweet satisfaction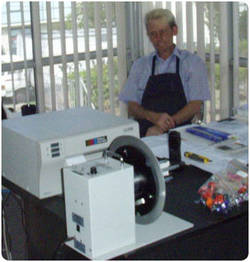 After installing a Primera LX810 life is Sweet for John McIntosh, proprietor of Cass's Candies. Cass's Candies produces confectionery for public sales, charity events and private businesses. Cass's Candies is a fully Australian owned medium size company employing around 20 people. John recently purchased a Primera LX810 from Label Power. We interview John about his experience of integrating the Primera LX810 Colour Label Printer into his businesss, Here's what he had to say.
Q. How has the Primera LX810 helped your business?
A. We are much more professional looking in our finished products and making labels is a breeze!
Q.How has the service been from Label Power?
A. Having local face to face support has been great. Brennan ( Label Power's NSW Manager ) is always ready to help and stock is always available on demand, which means we are constantly in production.
Q. How have your clients reacted to the labels being in colour?
A. We received a substantial order from a large motor Service company, so the reaction is very positive as now our labels stand out and give us the competitive edge.
Q. How big was the job?
A. We produced 30,000 labels over a few days.
Q. Have you used any other products with the LX810?
A. Yes we brought a rewinder so while the labels print they are automatically rewound onto a roll, we can print runs of labels unattended.
Q. What is the main advantage of having your own colour label printer in house?
A. Flexibility and reduction of costs are the main advantage, I can print from 1 label to 30,000 labels with no artwork or plate costs. It's really helping us make inroads into the corporate gift market with personalization at low cost.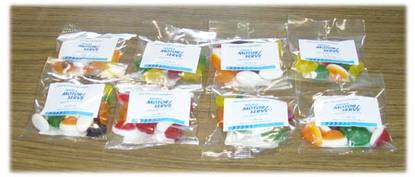 Thanks John, If you need personalized gift bags or sweet surprises for your clients for Christmas or any other occasion why not call John at Cass's candies 02 9718 0133.
If a Label Power innovation has helped your business we would love to hear about it and feature it in a future edition of Labelling Secrets, please email or call James on 1300 727 202.
---
Queensland Business Review rates Label Power in Q400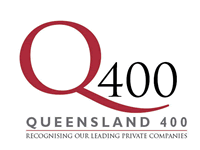 Label Power placed 278th (up 23 places from last year), in the 2008 Q400.
The Q400 lists Queenslands top privately owned companies in 2008. Label Power is appreciative of the award that shows growth during times of economic change. Managing Director James Malone commented "Having a committed team that communicate well and put the clients needs first is critical. Through the efforts of our team we will continue to be not only a respected Australian manufacturer but a resource of information for all our clients". For more information please go to www.q400.com.au.
---
New Semi Automatic Label Applicators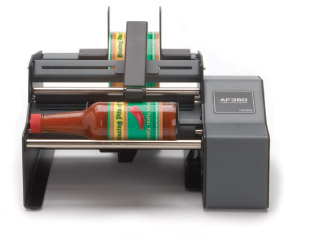 Label Power are now accepting orders for the New Primera AP-Series Label Applicators available soon and starting from under $2800+GST! Other products currently available with similar capabilities cost more then double this amount, this product is a real innovation!
These semi-automatic machines are perfect for applying product labels to a wide range of cylindrical and tapered containers. Apply labels quickly and easily to wine bottles, sauces, spices, salsas, jellies and jams, chemicals, cleaning products, paint etc...
Instead of hand-applying labels, the AP-Series applies them faster and with far better accuracy. The result is increased production and better looking products!
There are two models available.
AP360 - This is the base model. It quickly and efficiently applies single labels at a time.

AP362 - This is the advanced model. It can apply one or two different labels to a single container. A built in LED counter and memory for up to nine front to back label offsets is also included.