Dear Visitor,
Thank you for visiting us at Queensland Safety Show 2011. We appreciated the opportunity to introduce Label Power to you and show you part of our extensive product portfolio.
We have been overwhelmed by your response to our offerings and we are working extremely hard to respond to your enquiries.
Label Power's goal is to support Australian businesses with competitive labelling solutions to improve their business efficiency. Our sales staff have extensive knowledge of label manufacturing as well as associated equipment such as label printers, semi-automatic and fully automatic label applicators, barcode scanners and labelling software.
Before we go, we would like to invite you to check out Label Power's fantastic deals exclusive to Queensland Safety Show 2011 visitors!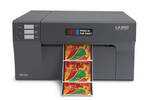 Don't wait any longer and start producing gorgeous, professional-quality prime labels for all of your short-run, specialty products, boxes and packaging.
With the LX900 you can produce full-colour labels at up to 4.5" per second in draft mode and print onto many different inkjet-qualified label and tag materials. Printed labels can include photos, graphics, illustrations, text and even high-resolution linear or two-dimensional bar codes.
If you are interested in consumables for the Primera LX900 we have a wide variety of Labels and Ink Cartridges available to be order online. Choose from gloss inkjet paper permanent and matt synthetic permanent labels to black, cyan, magenta or yellow cartridges.
Or if you prefer Click Here to download Primera LX900 Consumables price list and order form.
---

The Pebble4 is the ideal printer to seamlessly personalize your cards, on demand or in volume.
Loaded with the latest technologies for printing on plastic, Pebble4 provides solutions that cater to the most stringent requirements from medium to large businesses, banks, retail stores, governmental authorities and agencies, as well as leisure resorts and casinos.
Pebble main specifications :
Single-sided printing.
Colour and Monochrome capabilities.
Printing Speed: 150 cards per hour (color - YMCKO), up to 1000 (Monochrome).*
Encoding options: magnetic stripes, contact and contactless Smart cards
Supports Windows, MAC and Linux.
3-Year Warranty.
*Under specific conditions
Do not miss this outstanding promotion and start producing your own: employee badges, secured access control cards, payment cards, leisure resort passes, health cards, transit passes, loyalty cards, event cards (visitors and exhibitors).
---
To receive a free, no obligation proposal for your labelling requirements simply put your existing label or tag samples in an envelope, tell us the quantity you require and send them to: Label Power Pty Ltd. Reply Paid 363. Archerfield BC, QLD, 4108.
Alternatively you can email your requirements to sales@labelpower.com.au or fax them to 1300 727 212. Don't forget to include your contact details: company name, address, phone number, email address and contact person.
Thank you again for taking the time to visit Label Power at Queensland Safety Show 2011. If you have an immediate need feel free to Contact Us. We look forward to hearing from you.

---
Please Click Here to download our company brochure.
---