Thank you for visiting Label Power at NMW 2012
Dear Visitor,
Thank you for visiting Label Power at National Manufacturing Week 2012. We appreciated the opportunity to introduce Label Power to you and show you part of our extensive product portfolio.
We have been overwhelmed by your response to our offerings and we are working extremely hard to respond to your enquiries.
Label Power's goal is to support Australian businesses with competitive labelling solutions to improve their business efficiency. Our sales staff have extensive knowledge of label manufacturing as well as associated equipment such as label printers, semi-automatic and fully automatic label applicators, barcode scanners and labelling software.
Before we go, we would like to invite you to check out Label Power's fantastic deals
---
<link catalogue products name pd primera-lx900-colour-label-printer external-link-new-window external link in new>The Primera LX900 desktop colour label printer only $2795+GST
<link catalogue products name pd primera-lx900-colour-label-printer external link in new>The Primera LX900 is a colour inkjet label printer specially designed for printing runs of customised full colour labels. With a huge range of ex stock labels sizes available the Primera LX900 is a must have for companies who have a wide range of products that need to be professionally labelled.
If you are interested in consumables for this printer we have <link categories printer-consumables inkjet-cartridges category primera-lx900-inkjet-cartridges external link in new>Ink Cartridges, Gloss Inkjet Paper Permanent Labels and Matt Inkjet Synthetic Permanent Labels
<link categories label-applicators semi-automatic-label-applicators category primera-label-applicators external-link-new-window external link in new>Are you applying labels by hand?
Forget about this time consuming, frustrating and labour intensive process. With Primera AP-Series Label Applicators you'll apply labels faster and more accurately – helping you to speed up your production and sell more of your products!
<link catalogue products name pd primera-ap360-label-applicator external link in new>Primera AP360 $1495+GST. Accurately apply labels to the front of the bottle.
<link catalogue products name pd primera-ap362-label-applicator external link in new>Primera AP362 $1795+GST Apply labels to the front and back of the bottle with variable spacing.
Primera AP Series the AP360 and AP362 are the ideal solution for labelling cylindrical and tapered containers such as bottles, cans, jars and tubes. Both units can apply labels at a speed up to 1200 containers per hour. In addition, they have a built in spring-loaded pressure arm to ensure that the container is securely held in place during the label application. This results in labels which are applied evenly and without wrinkles. [See these products in action on our Youtube Channel]
Datamax-O'Neil E-4204B MarkIII is a compact desktop Direct Thermal printer that is designed for a wide variety of industries and applications that require a reliable and cost effective barcode printer.
The E-4204B MarkIII is used for many applications including product labels, work in progress, shelf tags, shipping labels, asset identification, instruction labels, patient ID wristbands and many more.
This model meets the needs of the most popular barcoding applications, including USB and serial ports as standard features. The Datamax-O'neil E-4204B MarkIII is easy to use with quick loading media. Users will also notice a substantial reduction in their daily operational costs thanks to its larger media and ribbon roll capacity.
The E-Class Mark III is one of the best value printer on the market. It is competitively priced with a proven design and reliable performance that will continue to operate long after other printers have failed. [View full range and order online]
Datamax-O'Neil M4206 Mark II is a compact, industrial-strength Direct Thermal Barcode label printer that offers outstanding value with a broad range of features. The smaller footprint is ideal when users need the power of industrial printers but must consider space limitations.
This unit features a precision die-cast aluminium frame with a real time clock for accurate date-time labelling and a 5-button, 128x64 LCD graphical backlit display is easy to read, enabling user-friendly label set-up and configuration.
The Datamax-O'Neil M4206 Mark II is used for many applications including asset tracking, work-in-progress labels, agency labels, instruction labels and many more. With this printer you can generate high quality barcode labels and handle continuously changing data. It is also ideal for the requirements in applications such as cross docking, shipping labels, pallet tracking, and in sorting centres. [View full range and order online]
Datamax-O'neil I-4212E Mark II is an industrial barcode printer that offers the fastest processor, largest memory and a widest selection of communication ports available in a mid-range industrial printer to meet the most diverse applications.
The I-Class Mark II printer is positioned as the mid-level industrial printer between the compact M-Class Mark II and the high performance H-Class. The I-Class Mark II is loaded with many standard features not offered by the competition such as a faster processor, larger memory, a wide selection of communication ports, an intelligent printhead with durable coating and better abrasion resistance, and the new OPTIMedia feature that automatically selects heat and speed setting to produce the best print quality. Users will also notice a substantial reduction in power consumption.
The I-4212E Mark II boasts a print speed up to 12ips (304mm/sec) and supports a 4.10-inch (104.1mm) maximum label width making it perfect for labelling applications in industrial, commercial, business and clinical environments. [View full range and order online]
Label Power Web printing Portal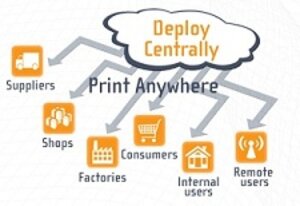 Are you tired of designing and updating your labels?
Are you over training people again and again to design your labels?
What does the Label Power Web Portal offer?
Subscription based label printing hosted on the web.
Label design and management service.
Simple and powerful way for you to print anywhere at any time.
Reduced load on your IT department.
Decreased cost of your label printing.
Puts you are in total control of your label printing needs.
Label Power web Portal delivers the performance, features and mission critical reliability previously only available from desktop applications. The printing application runs in a Web browser on the local PC, not on a server. Users can install their windows printer drivers and administer their own print settings – no need for server administrators. The application can also be installed on the local computer so that it can run with or without an internet connection.
To learn more about this product contact us at 07 3710 7004 or peter@labelpower.com.au
To receive a free, no obligation proposal for your labelling requirements simply put your existing label or tag samples in an envelope, tell us the quantity you require and send them to: Label Power Pty Ltd. Reply Paid 363. Archerfield BC, QLD, 4108.
Alternatively you can email your requirements to sales@labelpower.com.au or fax them to 1300 727 212. Don't forget to include your contact details: company name, address, phone number, email address and contact person.
Thank you again for taking the time to visit Label Power at NMW 2012. If you have an immediate need feel free to <link main about-us contact-us external-link-new-window external link in new>Contact Us. We look forward to hearing from you.

---
Please Click Here to download our company brochure.
---