Stainless Steel Powered Label Dispensers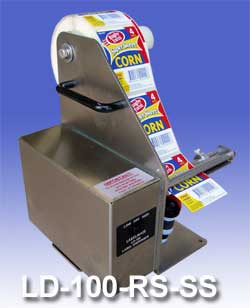 Label Power introduces to Australia the new sleek stainless steel chassis LD-100-RS-SS and LD-200-RS-SS label dispensers with sealed stainless steel cover.
These dispensers are ideal for food industry and pharmecutical applications.
The technology and performance is the same as the LD-100-RS & LD-200-RS models which use the latest opto-electronic technology so there is just one simple adjustment for label length.
A special Reflective Sensor sits below the label and reliably and accurately senses the leading edge of your label. As you pick up a label, the next one is automatically and instantly advanced. The modern design presents the label right at the front of the machine, providing optimum convenience for both left-handed and right-handed operators.
A "HIGH-LOW" Speed Switch allows adjustment for label length or operator preference. There are no mechanical position switches to cause adjustment or operational problems.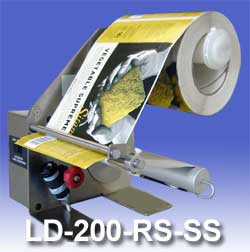 Designed for all-day, every day use, the LD-100-RS-SS and LD-200-RS-SS Automatic Label Dispensers are backed by Label Power's 3-Year Parts and Labour Limited Warranty, assuring you trouble-free performance.
KEY FEATURES:
Easy access to dispensed labels.
Equally convenient for right and left handed operators.
Works with labels as short as 1/4.
Small footprint.
Stainless Case ideal for food industry and pharmecutical applications.
MODEL

DESCRIPTION

LABEL WIDTH

LABEL LENGTH

ROLL DIA.

Stainless Steel Case.

Automatically advances the next label ready to pick. Fast label loading. Quick and convenient operation! Not for transparent labels.

1/2 to 4.5" max. (25- to 114-mm)

0.25 to 6" or more (6- to 150-mm)

8.6 max (220-mm).

Core I.D. 1.5 to 3"

Stainless Steel Case.

Same features as LD-100-RS

-SS

, but with wider label capacity.

1/2 to 6.5" max. (25- to 165-mm)
OPTIONS:
| | | | | |
| --- | --- | --- | --- | --- |
| LD-FLANGES | Optional aluminum Flange Plates suggested for use with narrow labels that may have a tendency to telescope or fall off the core. Set of 2 Flanges for LD-100-RS or LD-200-RS. | N/A | N/A | N/A |
| LDC-1 | Optional Label Counter for LD-100-RS & LD-200-RS. (Factory installed) | N/A | N/A | N/A |
| UCAT-S | Econimy Non-Powered Label Unwinder with limited fixed braking. For 3" diameter cores only. Use with any LD-100 Model. | Up to 6" | Up to 12" | Rec. 10 ips max. |